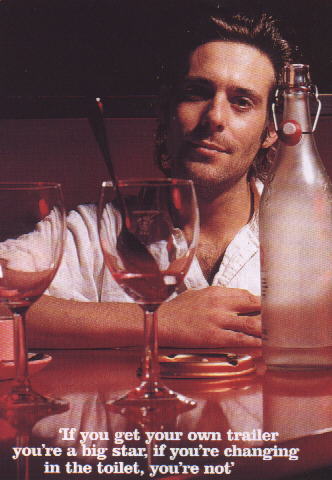 TV actor James Callis has finally scored his big-screen break as lovely Tom, the gay best friend in Bridget Jones' Diary. He tells Sean Lynn what it was like to camp it up with Renée Zellweger

Bridget Jones' Diary is one of the most talked about films of the year - how did you get the part?

I have absolutely no idea! I think it had quite a lot to do with the fact they needed somebody fast. I didn't think my audition was much cop, but then I got a call saying they liked me and wanted to meet me right away. That was on the Saturday and I started work the following Tuesday. I hadn't even seen the script at that point. But with films you only shoot a couple of scenes every day so you usually only need to speak three or four lines at a time, which isn't taxing - even for non-actors.

Although it's set in Britain, it's a big Hollywood film. Were you intimidated by the scale of it?

In any business there is always a hierarchy and you soon learn where you are in the food chain. If you get your own trailer you're a big star, if you're changing in the toilet, you're not! I was halfway between the two. But it was slightly unreal because I didn't really have a chance to psych myself up for it. But we were incredibly well looked after on this film. Especially on the days when the big stars were in the studio. The food was damn good on those days.

You're a married man, so were you worried about camping it up too much and offending gay people?

It was really hard because I had no idea what to do. They just pointed a camera at me and told me to do it. Then they would say things like 'Let's have more of this, or less of that.' They kept telling me to be more like myself and I'd say 'But I'm not gay.' I'm not sure they believed me. I did tell a few people on the set that I was married and they just looked at me as if to say 'Yeah, right.' Then I went home and told my family that everyone on set thought I was gay and they said: 'Well, that shows you're doing a really good acting job.' I had to tell them I hadn't actually been acting at the time. Which was a bit worrying.

Is he based on a real life person?

Yes, he's based on someone who used to be a very successful pop star. In real life he's actually a serious, highly educated man. But in the film I play someone whose mobile phones match his shirt and whose whole career is based on one song recorded years ago, which was enough to get him laid forever after.

As an American, Renée Zellweger was a controversial choice for the lead role. What was it like working with her?

Occasionally she would ask me questions like: 'Is it piss awf or piss orf?' but she had the same voice coach that I had at drama school and she really nailed it. She spoke in an English accent throughout the entire shoot, even when the cameras weren't rolling, so it was astonishing at the wrap party when she suddenly slipped back into Texan again. The difference was amazing. The other thing that a lot of people don't realise is that Renée's a very clever cookie. I think she's got a degree in social anthropology or something like that from the University of Texas so she's scarily bright. She knows everything about everything.

And did you meet Jim Carrey?

Yes I did. He was a very cool, a very charming and actually a very mild man.

If Bridget Jones' Diary is a hit, you'll soon have web pages dedicated to you on the Internet. Are you ready for all that sort of stuff?

Actually, I've got a small following already and I'm so excited I can't begin to tell you. Some of the people who visit the site actually met up and now they rarely talk about me and discuss their own lives instead. Then some other people wrote in to say that this was a James Callis website and they shouldn't be talking about anything else. So I wrote in and said that if you're only going to be talking about me it's going to be a very boring page indeed.

What's the most bizarre thing you've read about yourself?

There's this website in America dedicated to talking about the next James Bond. And there was this list of hundreds of British actors and everyone was giving their opinions. Beside my name, someone had written that they thought I'd make a good James Bond but that I wasn't really attractive enough!

Didn't you get offended!

No. How little would have to be going on in your life if you're going to be offended by something like that?

So you're not vain then?

I think you have to be a little bit vain to do this job or else you're not going to go anywhere. But many actors are too self-obsessed. Recently I saw a documentary about the Go-Gos, and old girl band that was very into drugs and alcohol. And one of the members, who's now a married mother, said she was so pleased to have kids because before then she had been so self-absorbed. Having to think of someone else had pretty much saved her life. I remember thinking at the time that there are a lot of actors who should consider having a few babies.